Municipal Facilities & Utilities
We have worked with numerous cities and counties as well as the State of Colorado on a variety of projects, including:
Boulder County Justice Center | Boulder, CO
As sub-consultants for Lepore Engineering, we assisted in the electrical design for the 38,000 square foot building as well as the 43,000 square foot parking garage addition. The design for the existing building included a new 6,000 ampere building electrical service and back-feed of the power distribution system (normal and emergency). For the garage addition, we designed power distribution systems to support mechanical equipment, owner/user electrical loads, and transient voltage surge protection. We also extended the existing telecommunications raceway system, fire alarm/detection system, and security and panic alarm systems. We designed illumination systems including luminaire selections and provided coordination, design, and photometric analysis for City approval of site illumination.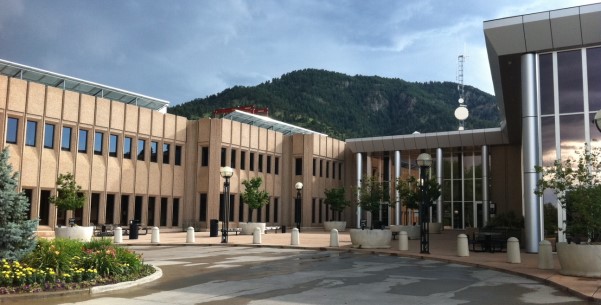 Candelas Parkway | Arvada, CO
In cooperation with Stanley Consultants, we designed the lighting and controls for Candelas Parkway from Indiana Street to Highway 72. This included power for the new intersection traffic control lighting, irrigation controllers, and miscellaneous signage. Due to distance and separate metering requirements for street and traffic lighting, we coordinated with Xcel Energy to design multiple new electrical services for the project.
West Valley City Plaza & Promenade | West Valley City, UT
We worked with Stanley Consultants and GSBS Architects to design general stage and area lighting, performance lighting and controls, and Cam-Lock company switches for the area's amphitheater. We designed the power systems for three separate water features (sprayground, fountain, and interactive river), shelter lighting, landscape lighting, pathway and promenade lighting, and distribution for seasonal lighting consisting of receptacles near 250+ trees.
Waste Water Treatment Plant | Laramie, WY
We worked with Long Energy Solutions to evaluate the existing service and distribution systems' ability to support new Blower units. We then designed electrical service and distribution modifications to accommodate the installation of new Blower units and evaluated the possibility of the installing mechanical interlocks to allow for the installation of new blower units without service modification or removal of existing blower units.
Platte River Wells | Thornton, CO
This project involved electrical and mechanical engineering services associated with ten existing wells and their pump houses along the Platte River. We coordinated with Xcel Energy to deliver 13kilo-volt (kv) service to the site. The underground power distribution system was designed from the load side of a padmount Xcel Energy primary meter and consisted of a padmount distribution main, padmount sectionalizing switches, 13kv – 480/277 volt padmount transformers, and underground wiring. We also provided electrical service to the pump houses included interior lighting, maintenance power, and power for heating/ventilation equipment.